Merry Christmas to all & thanks to Dickey for the music!
the one thing we all have to remember !!! when the bell rings we will know that dickey had been practicing, he knows how to hoe that row,hes been plowing them Belgium work horses for years, grass still grows
Merry Christmas to all the dickheads and dickheadresses out there... I read that Derek has invited Dickey to appear at the Southern Fest in St. Pete...Tedeshi/Trucks band recording it live...can anyone confirm...I think it is Jan 14th ????
Happy Birthday, Elizabeth Ann Lagrua......no amount of time will ever erase the memories you shared with me and so many others.......not a day goes by......Jim 😢
Happy belated birthday to Mr. Betts. Like others don't get to the sites as much as the past, trying to turn down screen time. Still spend too much time on the Gear Page and looking at guitar pictures! So glad to get a few Great Southern shows in the DC area before moving back to the gulf coast. All the best.
Happy Birthday Dickey As Nick would always say Have a Blue Sky day and let your soul shine
And of course Happy Birthday
Love you all, Merry Christmas and happy birthday to Richard Forrest Betts and all of you Brothers and Sisters out there. I would pay $25 for a cd of Dickey picking in his living room playing some acoustic. Just like Chris Musgrave did 10 years ago (or so I remember). Long live and let's ride The Great Southern
Nice pic! Thanks for sharing it!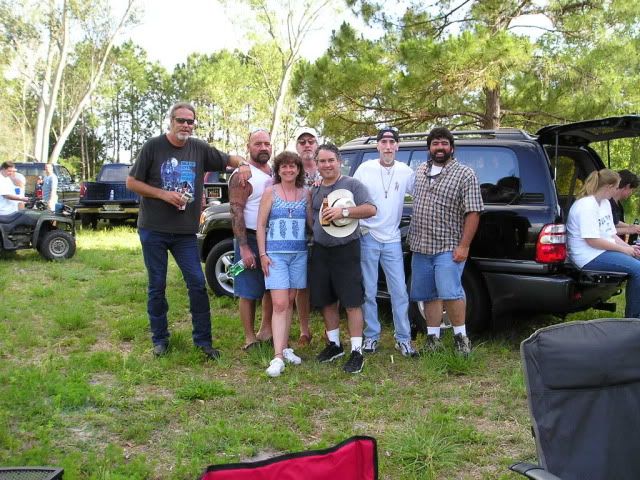 a few rogues, May 2004 Sarasota....thx Roland
Yes, just click the Picture icon and insert the URL of your picture (it has to be on the web somewhere, we don't allow uploads for web security reasons)
Cheers, Rowland
apparently you can't post pix anymore....😑
Hey Like! Now we wear that "all you rusted,jaded and or faded outlaws and enlightened rouges out there" as a badge of honor! Peace Brother, Tom
Dadgum brother man! That was back in the daze when i still had 1/2 a mind about me.Old think box is a scattered battlefield as of late.Something pulled me over here tonight.Ain't been here in age's.This whole screen page etc just ain't got the vibe.Feel like i'm writing on a chalk-board. Anyway,,,hey now to all you rusted,jaded and or faded outlaws and enlightened rouges out there.
Thinking of good times with Luke and I pulled up this recipe for you all: Any of you chilly Willie's out there want something to warm them gizzard's up with,here ya go.This recipe is from Mama Scaglione.Jot it down while ya can.Outta due respect i'll take it off here later. "Spanish Bean Soup" Water for stock Garbonzo Beans Chorizo sausage(take the casing off & brown with fresh garlic sliced up) coupla ham hocks chopped onions red pepper salt & black pepper bay leaves stewed tomatoes chicken broth hickory smoke flavor basil & oregano Sazon spanish seasoning The amount of seasoning is the chef's call to taste.In a stock pot with all the above ingredient's,let simmer on a slow rolling boil all afternoon,most likely about 6 hour's.When the bean's are tender,add cubed up potatoe's(i like the yukon gold tator's bein that their tender & have a great smooth texture) and let the soup cook on low for a coupla hour's more.By now it should be right on the money.So fix ya up a nice salad & grab a loaf of cuban or french bread for soppin & have at it. If this recipe done right don't make your tounge jump out & slap the side of your face,your mind ain't right. Don't be afraid to add that extra skosh on each of the ingredient's.They'll all make friends in the pot & bring it back to where it all begin's. Merry Christmas to everyone here especially Mr. Richard Betts and Family
there is another bend in the river
Rest in Peace Leon Russell. I was in Scituate in 2014 when he played just before Dickey. As David Spero reported, the two enjoyed a nice reunion on that day - maybe it was the last time they saw each other. They shared songwriting, musicianship, peaks and valleys, and an independent and sometimes rebellious spirit.